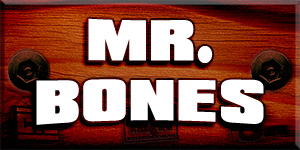 "Miami is a place everybody needs to visit. South Beach is like the Partyland while across that bridge is the Twilight Zone." These are the words used to describe the hometown of one of Miami's most invigorating rappers, Mr. Bones. With the release of his debut album "THUG HITZ VOL. 1", The Franchise Thug of Double Action Entertainment, Inc. has captivated audiences in ways not felt since the early days of Rap music. "THUG HITZ stands for The Hardest UnderGround Hitz…it's a story that happens everyday in every hood. It's basically the streets personified."
While growing up in Dade County can be detrimental to the health of a young thug, Bones found music to be his saving grace. "Music is an important outlet to release joy as well as anger. It's a less harmful and legal way of expression. My album consists of my good and bad experiences. Even though I went through my trials and tribulations, I'm not scared to talk about my real life situations."
With songs like Eyez of a Thug, Fight Clubbin' and The Least We Can Do, "THUG HITZ VOL. 1" represents the struggle on all levels. From the soldier's perspective, to the rebel and visionary, Mr Bones vivid description of life can only be classified as sheer brilliance. But don't tell him that, " I'm not trying to make a statement. I'm just a regular person. I work hard and make the best decisions I could possibly make. To me this is just everyday living." Attacking the music scene with his debut album, Mr Bones followed up with 2 Mixtapes. "SMASH N GRAB", where he takes audiences on a wild ride over popular commercial friendly tracks, and "CHASE: I AINT DEAD THE MIXTAPE", where Mr Bones revives the character he made famous in the feature film and urban classic, "CHAIN REACTION" by Director Willie Hustle. The movie starring Mr Bones also features Slip N Slide / Def Jam recording artist Rick Ross, uber-producer, Total Kaos, and the red hot North Florida act, MBeezy. He has also appeared on various mixtapes, is a guest on Colosus new album "AHEAD OF MY TIME" (DadeFire/KOCH), and is featured in the upcoming film "WARRIOR BLOOD" (ARTEX PRODUCTIONS) from Award Winning Writer J "Sugga Caine Biggs" and also in the upcoming film "Naked Ladies."
Now gaining momentum is his latest single "My Swagg" featuring labelmates Total Control. Produced by Total Kaos, "My Swagg" is Mr Bones at his best; Crisp, sharp lyrics over a nice smooth R&B rhythm. The song's success has even inspired quite a few artists to rap about the "Swagg" lifestyle, made popular by the song. Most recently he has completed his brand new mixtape ELECTION SEAZON with DJ SUPASTAR J KWIK (Gucci Mane). He's currently promoting ELECTION SEAZON on tour with BLOODRAW from Young Jeezy's USDA, and has recently joined forces with BLOOD RAW ENTERTAINMENT. A Certified Street Star, Mr. Bones is making his mark in the music industry while representing the 305 to the fullest.
Mr. Bones "THUG HITZ VOL. 1" is in stores now!! Log on to
www.Doubleactiononline.com
or
http://www.myspace.com/mrbones305
to hear music and receive the latest show info about Mr. Bones.