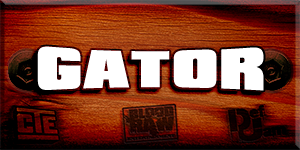 Gator a.k.a. Jedidiah was born in Austin, TX but quickly moved up north where he spent 10 years in the hardest parts of Baltimore, MD. In his teens, Gator moved to Panama City, Fl a.k.a. the Bangin' Bay where he met CTE Recording artist BloodRaw.
Initially known as the youngest member of BloodRaw Entertainment, Gator is also the first solo artist on the BloodRaw label. Many fans have come to know Gator has Bloods hype-man. Gator was also featured in a group called the NFL Ryder which consisted of Bangin Bay Representas Mighty Mike and Blood.
Gator has since opened up for various artists to include Keith Sweat, OutKast, Masta P, 69 Boyz, 95 South, Lil Troy, Pastor Troy, 2 Live Crew, Cash Money, and the list goes on.
Gators grimy, strong, and powerful voice brings new meaning to the music industry which in turn led to the hit single Swervin featuring Dirty Black. Swervin began getting airplay in the fall of 2005, beginning in the south, and soon began spreading like a virus from there.
With high and intensified energy during show performances, Gator always manages to keep the crowd on their toes. Gator is the next solo rap artist to come out of the Bangin Bay and go straight to the top!